Regular price
Sale price
$30.00 USD
Unit price
per
Sale
Sold out
SPECIFIC. FIRE. TRAINING.
For those that want to become a firefighter or are a firefighter.
Brendon Trayner is a fire captain in the state of Arizona. His background with functional fitness paired with his years of experience in the fire house helps him guide prospective firemen and women to careers in fire departments all around the country.
With his help, Josh Bridges has tailored his general prepared physical fitness program to a specific program for cadets and current firemen/women.
What's Included?
View full details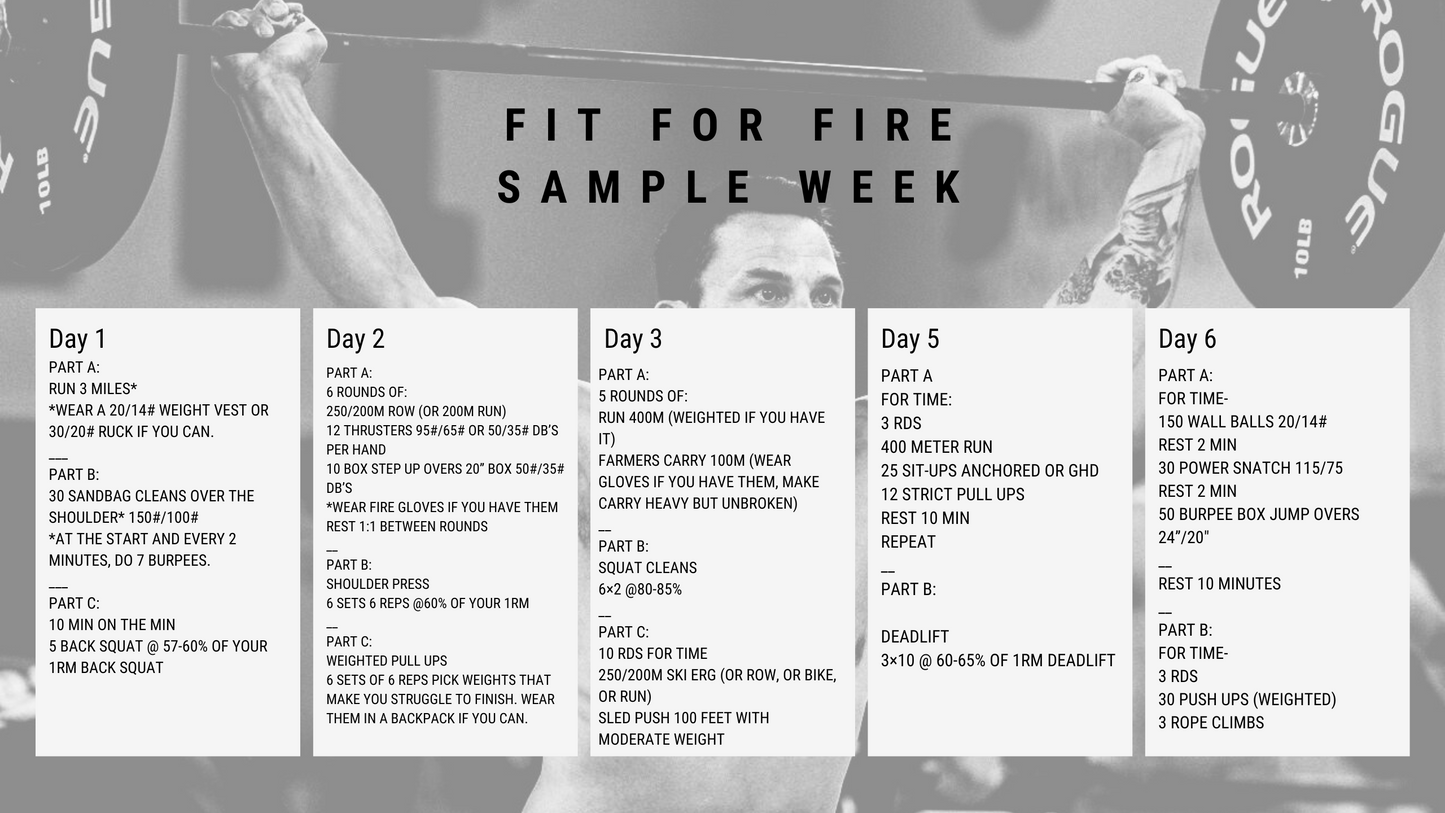 Joining The Program
Purchase Program

Select the program(s) you would like to join and subscribe today through josh-bridges.com

Download Fitr Client App

After your purchase is complete you will receive an email to download the FITR Client app. You will see all purchased programs in the app.

Join the Community

Each program features a Community Section designed to help support each other during your full training! This is monitored by our team for any additional questions.
1 week in!
Hello,
am satisfied, have switched to fit four four to train less gymnastics and technical lifting.
perfect program as you are too old to become a crossfit athlete and just want to be in good shape😀
Most well rounded for the job
I have been a firefighter for 22+ years. I found CrossFit 12-13 years ago and fell in love with fitness. I have tried several programs since making my own gym at home. However, Fit for Fire is by far the most geared for the job. There are still CrossFit elements but also much needed grunt style work outs mixed in.
Good Program
I like the program a lot, I think it's good. The only reason I didn't give it a 5 star rating is because I think it gets a little repetitive. I would like to see more variety in movements. I find myself subbing in various movements to add variety. But other than that, I have zero complaints.
Paying the Man
Workouts hurt so good. I would like the format to be a little easier to read. Ex: some of the metcon work and db work doesn't specify (every time) whether it's single db or not. I'd like to see substitutions on every workout only because I don't know how to clean/snatch.
Best FIRE programming available ANYWHERE
I have a decade in the Fire Service all across Canada and several overseas tours as an Aircraft Firefighter.
I have seen and done just about every program available on the market today. Josh Bridges Fit for Fire is the one you want. Perfect blend of variation and repitition so you WILL see results. Program is structured to be done in any gym and partitioned to be easily performed on SHIFT. We all wanna spend 3 hours clowning around in the gym but reality is we have to get our workouts in between calls and maintenance ect. If you are trying to break into the Service or are a vet who loves to get down and dirty with some old fashioned grunt work THIS IS the penultimate program. Don't waste your money on programs because they have a fire helmet in their logo. Buy this program and PAY THE MAN